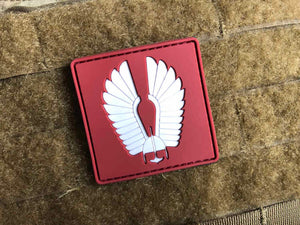 Winged Hussar
Texas 144.1
This design is our take on this symbolic and historic warrior. We sought to capture the wings along with a frontal view of the type of helmet a Winged Hussar may have worn.


(Image from Badass of the Week)

The Polish Winged Hussars were considered an elite group of cavalry during the 16th-18th centuries. Their hallmark of course is the Battle of Vienna (1683 AD) which could have been the largest cavalry charge in the history of warfare.
They also played a role in the Battle of Lubieszów (1577 AD), Battle of Pitschen (1588 AD), Battle of Kircholm (1605 AD), Battle of Klushino (1610 AD).
Historians and the like have held the Polish Winged Hussars in high regards for their tactics and bravery.
There is debate on the purposes of the wings. Some say it was decorative. Others say they were used to intimidate the enemy (and their horses) due the loud sounds they made as the cavalry charged. 
5 reasons why the Winged Hussars are among the greatest fighters of all time