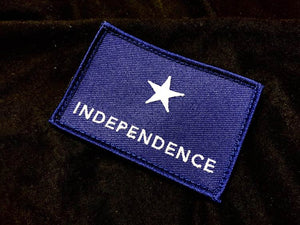 The Scott Flag
Texas 144.1
The year: 1835
Location: Texas
Currently controlled by Mexico. A group of 'radicals' lead by Captain William Scott went to the Battle of Concepción. Carried into battle October 28, 1835.
In comparison to Mexico's professional and highly equipped military. 'Radical' forces were made of local and surrounding regions civilian volunteers.
These brave souls eventually defeated General Santa Anna. Names Such as Scott, Austin and Houston became legend. The Republic of Texas was Born.
To this day in the lands and territories of Texas; Texas History is taught in our schools and universities. Throughout Texas History, a Blue Banner with a Loan Star represents the spirit and fight of her people. Of these sigils, only one demands, INDEPENDENCE.
3x2"
Twill/Embroidered
Hook Backing
Release: 1/19/2021