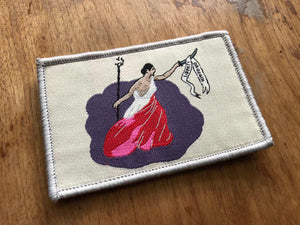 San Jacinto Liberty Flag (1836) - v1
Texas 144.1
The San Jacinto flag was created in Newport, Ky for Sidney Sherman and his Newport volunteers. The flag features Lady Liberty, wielding a sword and a banner with the words "LIBERTY OR DEATH".
The battle was won in under 20 minutes despite the Texians being outnumbered by Santa Anna's army of 1500 to their 930. They shouted "Remember Goliad! Remember the Alamo!". After the ensuing battle, Santa Anna was captured which led to his surrender and thus ended the Texas Revolution.
The original flag is on display in Austin, Texas at the Texas House of Representatives.
3x2"
Woven for amazing clarity
Hook backing 
Version 1