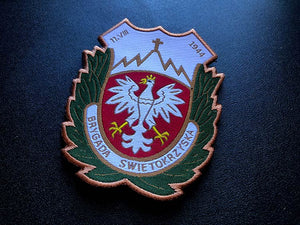 Holy Cross Brigade (Brygada Świętokrzyska)
Texas 144.1
Regular price $10.00 Sale
The design was hatched, developed and produced after numerous discussions with (IMO) historians and researchers who had relatives in the brigade.
Summary By Al Rayski
The Brigade was one of the military units of the Polish political NSZ / ZJ organization, one of many Polish underground organizations during the war. The main objectives of the NSZ military units during the occupation were: 1) to protect the population from harm at the hands of the occupants as much as possible 2) to pursue and eliminate the collaborators and criminal elements that were taking advantage of the situation in the occupied country 3) to eradicate communist influences and communist (including Soviet) bands of plunderers tormenting Polish villages 4) to keep morale high in the population in preparation for the time when its determination supported by ZJ's massive military action would most benefit Poland's national interests. Gathering intelligence for the Allies was also an important aspect of ZJ activities. The Brigade was formed in August 1944 from some smaller units in the region. At its inception, the Brigade was about 850 personnel. Poorly armed, it was completely dependent on ambushes for arms and the populace for sustenance. The Brigade was organized as two Regiments, with appropriate battalions, companies, and staff. The name of the Brigade was taken from the mountain range near where the unit was formed, just east of the city of Kielce . After forming, the Brigade fought against both the Soviet occupiers and those from Germany, engaging in a dozen battles with only minor losses to themselves. When the red army started their offensive in mid-January 1945, the Brigade was ordered to withdraw to the west, hoping to meet up with the US Army and then to join other Polish forces fighting with the allies. The Brigade marched over 800 km through the dead of winter, crossing the Sudeten Mountains into Czechoslovakia with the eastern front chasing them. Along the way, they still had to fight both the Germans and Russians. They finally wound up southeast of Pilsen, where they liberated a women's concentration camp (Holysov) and met up with Patton's Third Army and fought alongside them the last few days of the war. To my knowledge, the Brigade is the only Polish unit to escape Poland. After the war, the Russians tried to have the Brigade, or at least its leadership extradited for anti-communist activities, but were refused by the US commanders on the scene. At least a few of the Brigade members were kidnapped and never heard from again. After the war, the Brigade was relocated to Coburg Germany and became the basis of the US guard companies in Germany so the US could start bringing its troops home.
--------------------
External sources: Brygada Świętokrzyska - Learn more here (wikipedia)
3.5x3"
Hook backing.
Fine woven for amazing detail