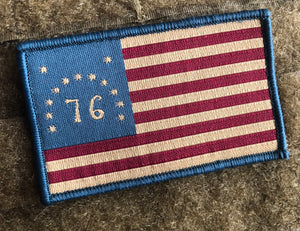 The Bennington Flag
Texas 144.1
If a flag's origin can't be proven, does it take away from what it means to us today? Not at all. Flags are symbols meant to send a signal, make clear the intentions of the bearer, or provide a rallying idea under a cause.  That a flag was flown in battle certainly makes it more dear to us; but those that did not still convey a message that we can reflect on today.

The Bennington Flag is celebrated for its similarity to the current United States flag and its simple throwback to the foundation of the country in 1776.  With thirteen red and white stripes and thirteen stars for the thirteen original colonies and the prominent "76", it's hard to imagine a more clear way to mesh our modern US flag with symbols of the revolutionary war that brought it into existence.  Multiple historical celebrations have utilized this flag to stir up patriotic feelings and draw upon the nostalgia of the foundation of our country. It remains a very popular flag today and we're proud to offer it in patch form.

Legend holds that this flag was flown during the Battle of Bennington in August of 1777 or over military stores nearby. Reportedly made by Molly Stark, the wife of General John Stark, the flag was reportedly carried off the battlefield by Nathaniel Fillmore who passed the flag down through his family over time.  General Stark, along with the Green Mountain Boys, eventually annihilated British forces in the battle. This annihilation set in motion the defeat of British General Burgoyne at the Battle of Saratoga which victories persuaded the French to materially support the Americans in their rebellion against the British Crown.  The significance of the Battle of Bennington adds to its legendary status as it was passed down through the Fillmore family, including Millard Fillmore, the 13th President of the United States.

While historians have been able to reliably conclude that the Green Mountain Boys flag was flown at the Battle of Bennington, the construction material and techniques used in the Bennington Flag don't support it being contemporary to the late 1700s but much closer to the early to mid 1800s.  As such, the most plausible origin of the flag is that it was created in patriotic support of the War of 1812.  Possibly, it could have been created in 1826 for the 50th anniversary of the Declaration of Independence and founding of the United States

No matter when it was created, this beautiful rendition of the Stars and Stripes is a vivid reminder of our heritage as a country and the spirit upon which it was founded – life, liberty, and the pursuit of happiness.

3x2"
Hook backing
Woven for amazing clarity