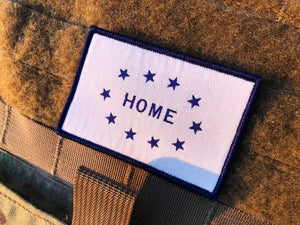 15th Virginia
Texas 144.1
The 15th Virginia Infantry was organized in May of 1861 with 476 men from the city of Richmond and from Henrico and Hanover counties. The regiment saw action in the battle of Big Bethel, one of the wars earliest battles. Upon culmination of the battle, the Regiment was removed to Williamsburg.
In Williamsburg is one of our country's oldest universities, the College of William and Mary.
Robert J Morrison  joined the college as a professor in 1858, prior to that he had helped establish several women's colleges throughout Virginia. 
Upon witnessing the arrival of the many young men that made up the 15th Virginia Mr Morrisons's wife, Cathrine Harrison, decided to sacrifice her wedding dress in order to present to the regiment a flag as thanks for defending the state her family had called home for generations. 
The Regiment fought with the Army of Northern Virginia up through the battle of Antietam, where it lost 49 percent of its men. It thereafter served with the Army of the Tennessee for the remainder of the war. The regiment was surrendered at Appomattox on April 9th, 1865.
In 1911, the veterans held a reunion in Williamsburg. In an address presented by J. Staunton Moore, the flag was remembered:
"The survivors of the Fifteenth Virginia recall with feelings of pride, that when we arrived in your beautiful and hospitable city fifty years ago, Mrs. Morrison, one of your patriotic ladies on the Campus of old William and Mary presented us with the first flag that ever floated over our heads. It was made from her wedding gowns; It's colors were white and blue silk, emblematic of the purity of heart of the giver, whose blessings she invoked on our undertaking. This flag waved on many a battlefield and is endeared to us by many sacred ties and tender memories… It is our privilege and our pride to assure the ladies of Williamsburg that this flag was never captured…" 
This flag is a testament to the women and families that make up our "Homes'. Remember them. - Jason Huff