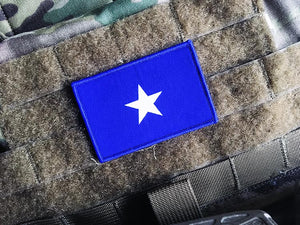 The Lone Star/Bonnie Blue
Texas 144.1
Regular price $0.00 $7.00 Sale
This ensign is as simple and clean as it gets. 

- The Republic of West Florida: 1810
- The Republic of Texas: 1836-1839 (Burnett Flag w/ Yellow Star)
- The Republic of Mississippi: 1861-1865

Some Tidbits of History and Information...

"The symbolism of the Lone Star is independence and was used often during the 19th Century in the southern United States. Its blue field represented truth upon which was placed a single white star, representing purity. It was displayed originally in West Florida's independence from Spain, later in Texas' independence from Mexico, and at the outbreak of the War Between the States, in the South's attempted independence from the United States. The Lone Star was looked upon by many Southerners as a reversal of the US Flag Act of 1818, which allows a new star to be added to its flag on the 4th of July following the admission of any new State to the Union. Hence, Southern States looked at the single star flag as "taking their star out of the Union"." Learn More...
More...
On September 23, 1810 Florida dragoons raised their Bonnie Blue flag over the Fort of Baton Rouge after its capture. Three days later the president of the West Florida Convention, signed a Declaration of Independence and the flag became the emblem of a new republic. With this rebellion in mind, this flag was used by the Republic of Texas from 1836 to 1839. On January 9, 1861 the convention of the People of Mississippi adopted an Ordinance of Secession. With this announcement the Bonnie Blue flag was raised over the capitol in Jackson. The Confederate government did not adopt this flag but the people did and the lone star flags were adopted in some form in five of the southern States that adopted new flags in 1861.